---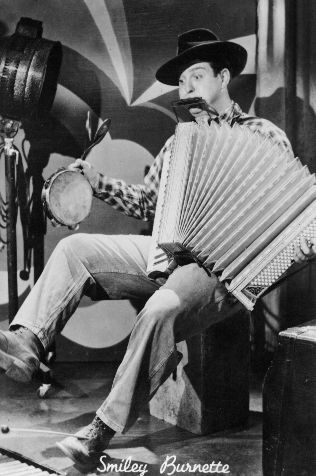 Music was a natural gift for Smiley Burnette and thankfully, he shared it with all of us. His first song to be performed on the silver screen and published was none other than "Mama Don't Allow No Music Played in Here". From the very first introduction to Smiley in "In Old Santa Fe", his ability to play multiple instruments was displayed. Smiley not only mastered playing one instrument at a time but multiple instruments at one time. But his gift did not stop even there. Smiley also built a variety of instruments that he used as props in the various films. He invented and built these instruments in one of his workshops at his home on Hortense Street in the San Fernando Valley.
Smiley possessed a natural ability in playing instruments, but an additional gift was given to him. His beautiful blending of words painted wonderful images in the mind's eye. Most people are familiar with the Western classic "Ridin' Down the Canyon (to watch the sun go down)". Other ballads equally as beautiful are "The Wind Sings A Cowboy Song", "Mother Here's a bouquet for you", "The Old Covered Wagon", and "Western Lullaby". Smiley also wrote musical scores for such films as "The Painted Stallion" and "Waterfront Lady".
Smiley gave us his insight into life through song. You may have thought that a song like "Chief Poccatello From the Cherokees" was just a nice children's song. The last line of the song leaves you with something to think about: "It's not what you say that matters, it's how you say it don't you see!"
Smiley Burnette's idea was to give his philosophy on life without entering the emotional house of people. He did not force his ideas and/or philosophy on anybody. Yet if his outlook on life helped their lives, he felt he had accomplished just a little in his life.
Smiley Burnette's love for his music was throughout his life. He gave back to the world the musical gift that was given to him. He reached out and was able to touch children and adults through his songs and playing of instruments. The best thing that ever happened though, was that he was captured on film, so that still to this day he performs and touches our hearts.
Among the many things Smiley produced were song books containing selections of the popular songs he wrote and performed. Here are a few examples:
Which included the following songs:

Mama Don't Like Music, Fetch Me Down My Trusty Forty-Five, Spooky Mountain Sally, The Man In The Moon Is A Cowboy, I'm Doomed To Follow The Bugle, I've Got Fine Relations, That Old Texas Trial Is Calling Me, Roamin' Around The Range, I Threw Away The Key To Heaven, Keep Your Eye On A Shooting Star, Sunset Hill, My Prayer For Tonight, I'd Love To Wed, On The Melody Trail, I'm Hunting A Mountain Ballad, Crazy Just Like Me, Down In Slumber Land, My Pinto Pony And I, Corn Fed And Rusty, We Can Use The Thing In Heaven, It Was Just For Fun, All Nice People, Loud And Fast, Floatin' Down The Deep Deep River, As Our Pals Ride By, They Got Me, Boys, They Got Me, Where Will The Wedding Supper Be, The Cowboy Medicine Show, Cave Man Song, I Would Have Been Different, Don't Want Nothin' – Just Lookin', She Works Third Tub At The Laundry, A Cowboy's Life, Painted Desert, Part Time Sweetheart, Scotch Cowboy, There's A Little Cedar Chest In The Attic, In My Little Old Home, You Don't Look Like The Picture, Minnie The Moocher At The Morgue, The Fireman's Daughter, Keep Goin'!, A Blue Little Girl, Honey Bringin' Honey To You, Little Mud House, You've Got To Be More Exclusive For Me, I Need A Worry-er, Frog Tuplettes, Smile Again Honey, You Can't Do It, As Time Goes By, You're Not Like You Used To Be

Which included the following songs:

Etiquette Blues, Elmer The Absent Minded Cowboy, Gotta Get A Horse, Guide Me Western Star, Horse-Feathers Yodel, I'm A Cowboy And How Boy, I'm Just A Little Cowboy, In A Cabin On A Cliff In Cleveland, It's A Heavenly Night Out West, Life Story (Smiley Burnette), Mail Order Music, Minnehaha (She Gave Them All The Ha Ha), My Orchestra Is Drivin' Me Crazy, Night On The Desert, Ridin' Down The Canyon T'wards The Sun, Sing A Little Song About Anything, Singin' My Cares Away, Smiley Burnette (Photographs), Song Of The Trail, The Fat Caballero, The Old Ten Gallon Hat, The Troubadour Of The Plains, The Stills In The Hills Are Still Tonight, There's Nothing Like Work, Way Out West In Idaho, What? No Hawses In Heaven?, You Can Keep Me In The Saddle (If You Keep Me In Your Heart)

Which included the following songs:

Mama Don't Like Music, Fetch Me Down My Trusty Forty-Five, Spooky Mountain Sally, The Man In The Moon Is A Cowboy, I'm Doomed To Follow The Bugle, I've Got Fine Relations, That Old Texas Trial Is Calling Me, Roamin' Around The Range, I Threw Away The Key To Heaven, Keep Your Eye On A Shooting Star, Sunset Hill, My Prayer For Tonight, I'd Love To Wed, On The Melody Trail, I'm Hunting A Mountain Ballad, Crazy Just Like Me, Down In Slumber Land, My Pinto Pony And I, Corn Fed And Rusty, We Can Use The Thing In Heaven, It Was Just For Fun, All Nice People, Loud And Fast, Floatin' Down The Deep Deep River, As Our Pals Ride By, They Got Me, Boys, They Got Me, Where Will The Wedding Supper Be, The Cowboy Medicine Show, Cave Man Song, I Would Have Been Different, Don't Want Nothin' – Just Lookin', She Works Third Tub At The Laundry, A Cowboy's Life, Painted Desert, Part Time Sweetheart, Scotch Cowboy, There's A Little Cedar Chest In The Attic, In My Little Old Home, You Don't Look Like The Picture, Minnie The Moocher At The Morgue, The Fireman's Daughter, Keep Goin'!, A Blue Little Girl, Honey Bringin' Honey To You, Little Mud House, You've Got To Be More Exclusive For Me, I Need A Worry-er, Frog Tuplettes, Smile Again Honey, You Can't Do It, As Time Goes By, You're Not Like You Used To Be