Copyright ©1999-2094 ~ Smiley Burnette Interprises ~ All Rights Reserved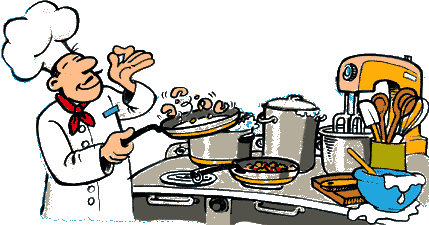 Welcome to the Wonderful World of Cooking
---Smiley Burnette style!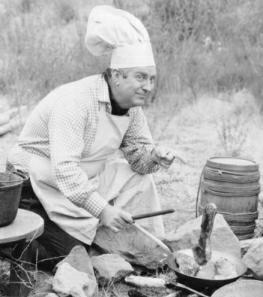 Smiley Burnette was a very versatile individual and he brought his many talents to the silver screen for you and I to enjoy. What many people do not know, is that he was able to poke fun at being a Blacksmith, Cook, poor Horseman, Tinkers' Tinker, Musician, and Singer because he was in fact very adept in all these skills.
Most people, who are at all versed in Smiley's background, know that he was a prolific songwriter and had mastered of over 100 instruments in his lifetime. But Smiley became what is in today's world considered a Master Chef. He honed his skills through necessity. Smiley found himself on the road a great deal of the time doing a whirlwind of personal tours. He quickly grew tired of not being able to locate eateries that served what Smiley considered good meals. Without much prompting from Dallas, he set out to acquire the art of cooking.

Because Smiley was on the road and not always in facilities that lent themselves to cooking, he created his own on the go kitchen and some very interesting recipes. As you will see in The Smiley Burnette's Cook Book, which was written by Dallas and Smiley Burnette, there are some very unique and easy to prepare meals. Smiley's inventive, yet simple combination of ingredients produces wonderful results.
Smiley's recipes have appeared in other authors cookbooks as well. His recipe for spiced leg of lamb appeared in Gladys Taber's, "My Own Cook Book". His recipe for Corn and Salmon Loaf appeared in the "The All-American Cowboy Cookbook". As early as 1939, Smiley graced the Hollywood Cookbook, "What Actors Eat When They Eat!" with a recipe.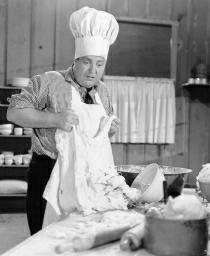 Just to let you in on some obscure facts about Smiley, he disliked two foods. His greatest dislike was for spinach. Smiley did not like spinach whether cooked or raw. This undoubtedly led him to write the song, "I Can Whip Any Man but Popeye". His second dislike was for Watermelon. Smiley just felt that Watermelon didn't have much favor.
Smiley wanted his four children to at least try different foods. That way, they would know for sure if they liked something or not. But Stephen (Smiley's oldest son) tells of a horrifying situation his Dad placed him in and to this day he will cringe at its telling. Smiley and the family were visiting back in Florida. Smiley was talking with a couple of friends, and they happen to offer Smiley smoked oysters to sample. Unfortunately for Stephen, who was standing next to his Dad, Smiley made the remark that Stephen liked oysters and popped one in Stephen's mouth. Now, Stephen being respectful of his Dad and not wanting to falsify Smiley's statement swallowed the oyster. He managed to keep the oyster down long enough to clear the view of the friends. Now, another time, Stephen still remembering the oyster was offered dessert of cheesecake. Smiley kept telling Stephen that he should just try it and if he didn't like it, he didn't have to finish it. Well, finally Stephen gave in and sampled the cheesecake. To his delight, it was really good and he wanted more. Wouldn't you know it, he had eaten the last small piece.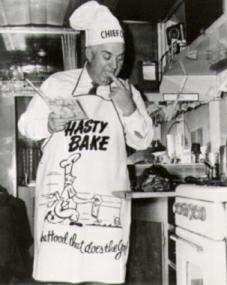 Smiley also, owned a chain of restaurants know as the "The Checkered Shirt". Smiley was the first to build a restaurant in the shape of an A-Frame, yes before the hot dog chain. Two of these restaurants still exist in Redding and Escondido California, but are no longer owned by the Burnette family.
Hope you enjoy reading through The Smiley Burnette's Cook Book. It is a window into some of Smiley's life and friends along the way. Do try some of the recipes, they prove to be worth eating.
Enjoy!

D.A. Eaton

The Smiley Burnette's Cook Book
---

USS NAUTILUS (SSN 571) arrives in NY


Commander William R. Anderson

US Navy Photos

Smiley's Cookbook Tours The North Pole!

Dallas and Smiley's Cookbook was taken along by Commander William R. Anderson during the top secret "Operation Sunshine," voyage of the USS NAUTILUS (SSN 571) in August 1958. This voyage was the first crossing of the North Pole by a ship, a nuclear powered submarine. Commander William R. Anderson penned the letter you will find below to Smiley and had a little fun with Smiley also!

Letter from Commander William R. Anderson

If you are interested in learning more about the USS NAUTILUS and her historic voyages, check out these web sites:

History of USS NAUTILUS (SSN 571).

Just as Smiley was a man of many firsts, so was the USS NAUTILUS a ship of many firsts.
---
As a matter of interest:

Stephen Smiley Burnette was in the Navy for 4 1/2 years in the late 1950's.
He is a member of the United States Naval Institute.
---

For those of you with a fast internet connection, and would like to get a copy of the entire Cookbook, save the file linked below:

---

Copyright ©1999-2094 ~ Smiley Burnette Interprises ~ All Rights Reserved